A smartphone performs countless vital tasks, including video calls, online meetings, and content and video creation. However, it is challenging to hold them up for long or when your hands are engaged. To counter this, producers developed cell phone stands you can use.
Phone stands are convenient and have become famous for maintaining your phone or tablet at the same eye level and reachable spot, preventing back and neck pain.
They come in different types, shapes, and sizes, but all are customized to perform the same task. The availability of many options can make it a bit challenging for you to choose one. Luckily, this blog simplifies your search process. It lists some of the best stands and the crucial features to consider when purchasing one.
4 Best Cell Phone Stands For Desk
If you own a smartphone, one of the most vital accessories to have is the cell phone stand. There are many stands on the market today, but you should choose one that best suits your needs.
That said, here are a few options to consider if you're planning to buy yourself a cell phone holder:
1.
Vention Portable Cell Phone Stand Holder for Desk Aluminium Alloy Type
A portable cell phone stand holder for desk aluminum alloy type is one of the most selling holders in the market today.
These phone stands have the following features:
Broad compatibility: One of the best features of the aluminum desk foldable holder is its compatibility with phones and tablets in 4.7-10'. You can also use them on your cell phone or tablet without removing their covers.  
Adjustability: The aluminum portable cell phone stand holder is accessible for angle adjustments. You can, therefore, adjust it to the viewing angle and height you're comfortable with for hands-free movies, gaming, and facetime.
Foldability and portability: These cell phone stands have a height of 120mm, length of 50mm, and width of 5 mm, but they're collapsible, and you can fold them into pocket size. They're also light, weighing about 71g. Basically, they're compact, slim, and smaller than iPhone 14, meaning they're portable, and you can carry them anywhere.
Strong stability: These cell phones are also stable, holding up to 800g, meaning they won't break or fold under the weight of your phone or shake whenever you tap on the device. It's also tilt-proof even when you place your phone horizontally.
Durability: Another impressive feature is their durability. They're made from sturdy, soft-touch, and durable aluminum alloy.
Good heat dissipation: These stands also have good heat dissipation. They're made of aluminum which helps with thermal conductivity preventing your phone from overheating.
User-friendly: Aluminum desk foldable holders are also convenient and easy to use, with an accommodating charging notch. You just place your phone or tablet and adjust your stand for hands-free screen time.
Hollow design: It also has a concave design that allows enough room for ventilation and airflow behind and around your device, allowing you to use it for as long as you want without overheating.
The aluminum desk foldable stands come in four elegant, simple, fashionable colors. You can choose one depending on your color preference or complement your table decoration.
2. 
Vention Portable Cell Phone Stand Holder for Desk Aluminum Alloy Type Gray
Another great cell phone holder option to purchase is the portable cell phone stand holder made from aluminum alloy, type gray.
It comes with a one-year warranty and measures 81mm x 4.5mm x 139mm with unique features. They include the following:
Stability: They also have non-slip silicone pads to prevent scratches and stabilize and secure your device in place, allowing you to type without them sliding or falling off the holder.
Portability: These stands are also foldable, portable, and light (weighing about 77g). You can fold them into a pocket size and carry them everywhere.
Adjustable viewing angles: You can adjust them to your preferred angles for an enjoyable screen time.
Durability: They're made of aluminum alloy, which is solid and durable, giving them a long service life.
Compatibility: Aluminum foldable stands, type gray, are compatible with many devices. You can use them on any device of about 4.7-12.9' and 18 mm thickness.
They also have a hollow design for ventilation and a charging notch that allows you to charge your phone while in use. They also come in different colors, so you can select the one that best suits you.
3.
Vention Portable 3-Angle Cell Phone Stand Holder for Desk Aluminium Alloy Type
They're also among the best-selling cell phone stands in the market today. They have a measurement of about 44.2mm x 6.3mm x 97mm, but you can easily fold them and fit them in your pocket.
If you're wondering why you should purchase these stands, here are a few reasons:
They're stable and can hold up to 2kgs
You can adjust them to your preferred angle
They have anti-slip silicone pads that secure the phone and prevent scratches
You can use them with any phone and tablet measuring 4.7-12.9'
They're convenient to use, and the front foot features don't block your device's screen
4.
Vention Height Adjustable Desktop Cell Phone Holder
The height-adjustable desktop cell phone holder is another cell phone holder you could purchase. It's incredibly convenient as you can whirl it to any angle for an accurate position.  
Other reasons to purchase this phone stand include the following:
Adjustable: One of the advantages of using this stand is that it's flexible. Unlike the rest, you can adjust the view height and angle to get a perfect position, relieving back and neck strains.
Compatibility: Another reason to use this cell phone stand is that you can use it as a tablet stand or a phone stand. They're compatible with all devices measuring 4-12.9'.
Multiple silicone pads: These silicone pads are placed at the back, phone slot, and bottom of the stand to increase stability and protect your device from scratches.
Reserved cable hole: You continue with your live stream video, conference meeting, gaming, or watching without worrying about charging the device. The stand has a charging notch that allows you to charge your device as you continue with whatever you are doing.
Small space occupation: The stand doesn't occupy as much space, and you can fold it for storage, making it easy to store and carry with you on your road trips and family vacations.
Full-screen demonstration: You can also enjoy full-screen viewing with this stand because the edge side of the plate is below the subtitle.  
Solid base plate: It also has a solid round base plate that provides stability to the stand, preventing it from collapsing under the weight of your phone.
Get yourself one of these fantastic cell phone holders and use your phone while doing other tasks.
Types Of Phone Stands For Desk
As mentioned, you'll find different types of stands in the market today. Some are best for recording your YouTube content, while others are simple and convenient for car or desk use.
That said, here are the different types of phone stands:
1.
Tripod phone stands
If you're a content creator that creates videos for your online audience, then this is the best cell phone holder for you. It's a small, portable holder you can use to keep your phone in place when creating content or taking pictures.
The benefits of using tripod stands include the following:
Better stability
More flexibility and time to compose yourself while taking pictures or videos
Strong enough to support, cameras, cell phones, and lighting
The best for extended exposure settings (slow shutter speed)
Better images in low light
Perfect for landscape panoramas
If you've never thought much about smartphone tripods, then it's time to do so. They help you get better shots you can print out than when you take them by hand.
2.
Novelty phone stands
The novelty phone holders are more classy and sophisticated and come in different styles and designs. They have bright colors and unusual shapes that bring more life and personality to your home and desks.
Therefore, this is an excellent option if you're tired of using plain-colored holders. Don't be afraid to explore the different colors and designs available. However, choose one that complements your interior designs so it doesn't look like something you picked off the street.
3.
Foldable phone stands
Another type of cell phone stands to consider is a foldable phone stand. They're convenient, easy to use, and your best bet if you want something that occupies less space and to carry with you everywhere you go.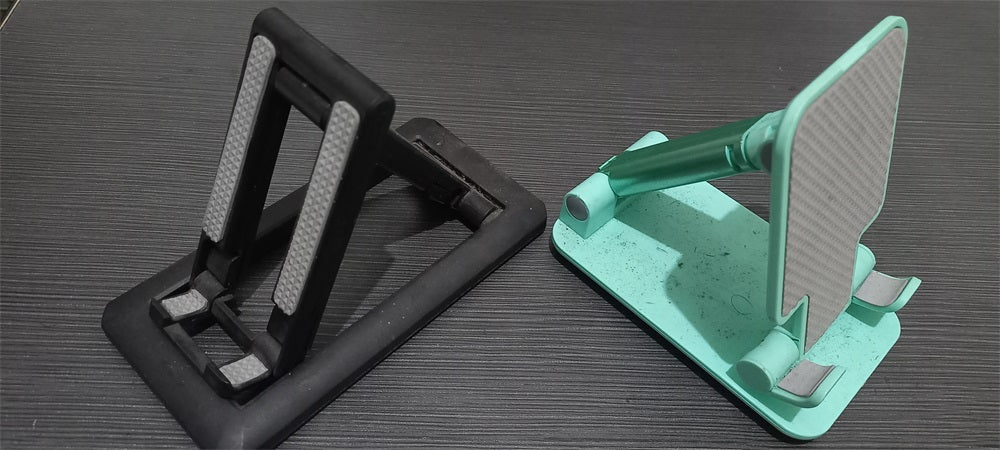 The foldable design allows the stand to occupy less desk space. You can lie them flat on your desk and only unfold them when you want to use them.
4.
Ring phone stands
One of the essential phone accessories to have, especially when you don't have a stand, is the mobile ring holder. They are also known as phone ring holders, phone finger holders, or cell phone ring holders.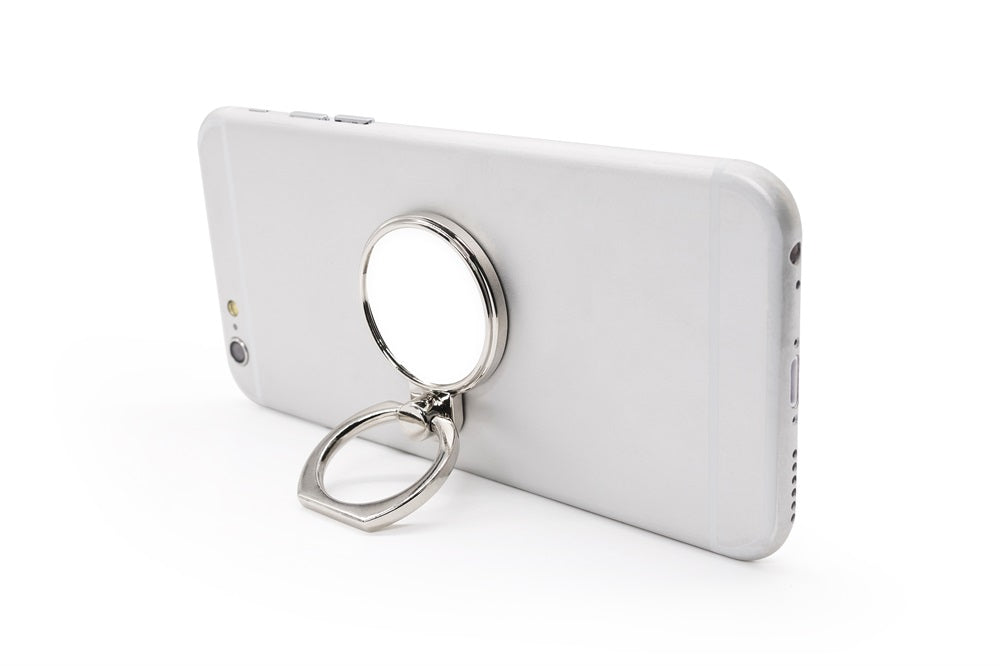 It adds to your phone's cosmetic beauty and is cheaper than the rest. Also, you can wear the ring around your finger when using your phone to prevent it from sliding off your hands.
That said, some benefits of using mobile ring holders include the following:
Better grip
Confident use of your phone in public
You can use it as a stand when your hands are engaged
However, not all ring holders are the same. They're manufactured by different companies using different materials, meaning that some have better quality than others.
Therefore, when purchasing the ring phone stand, consider the adhesive used to secure the holder, the finishing, and the ring component to buy one of good quality.
5.
Charging phone stands
Another type of cell phone stand available today is the charging phone stand. With this, you don't have to worry about low battery. These charging phone stands have in-built wireless chargers at the base of the stand that charges your phone while in use.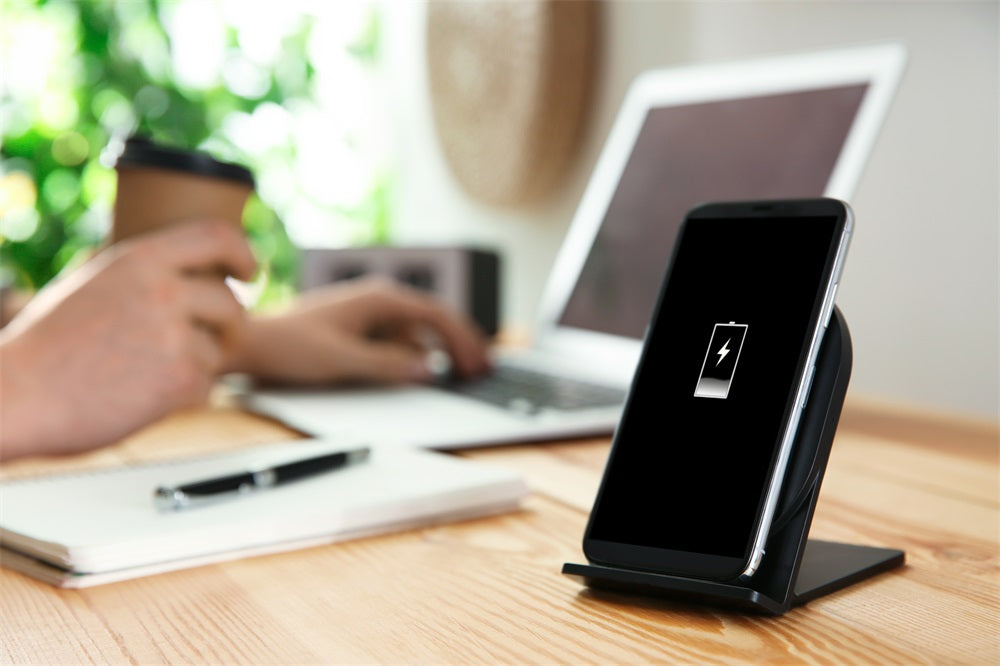 The best part about this is that you can charge your phone wherever you are without worrying about power sources and outlets. Other benefits include the following:
You don't have to carry your charge cords everywhere you go.
You can use it to charge different phones regardless of their charging port type
They also charge multiple devices simultaneously
These are just some of the benefits of charging phone stands. However, they also have disadvantages, like poor performance, but they're excellent options when you have to stay on the phone without disruptions.
6.
Popsocket phone stands
Another effective type of cell phone that stands for a desk is the pop socket. They gained popularity in 2014 and are still a great way to prop up your phone. All you have to do is attach the accordion-style button at the back of your phone.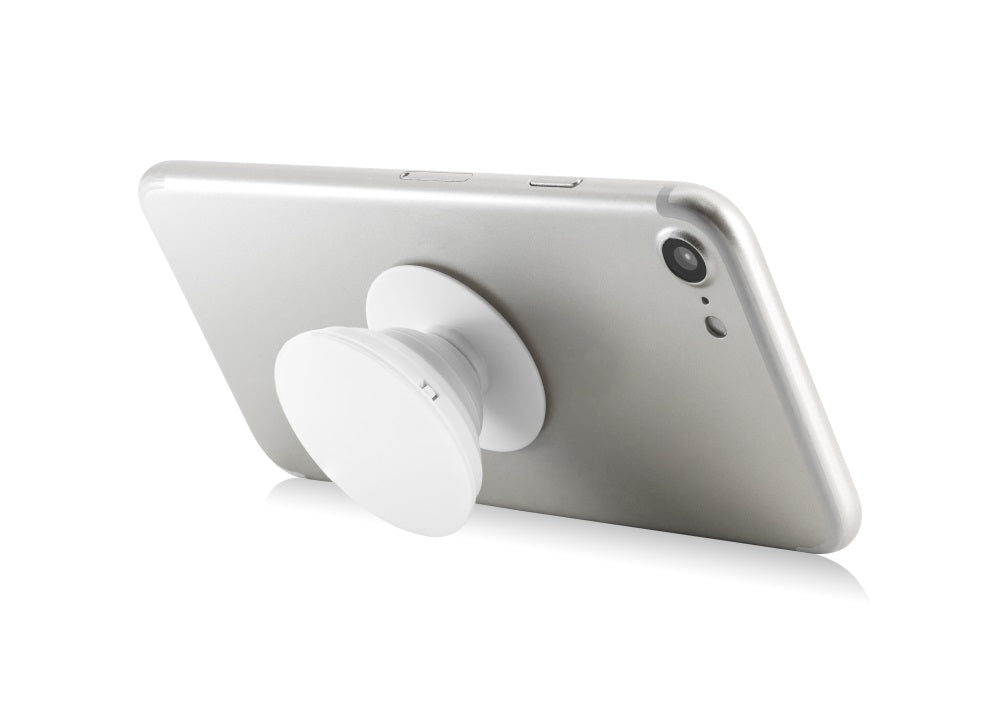 The best part about these stands is that they have a strong adhesive to hold up the phone and provide stability.
How To Use A Phone Stand
Now you know the different types of phone stands available in the market. Here are a few ways you can use your phone stand:
1.
Remote work
Gone are the days when you had to be at the office to get things done. Nowadays, you can perform your daily tasks, attend office meetings, and give presentations online from the comfort of your home.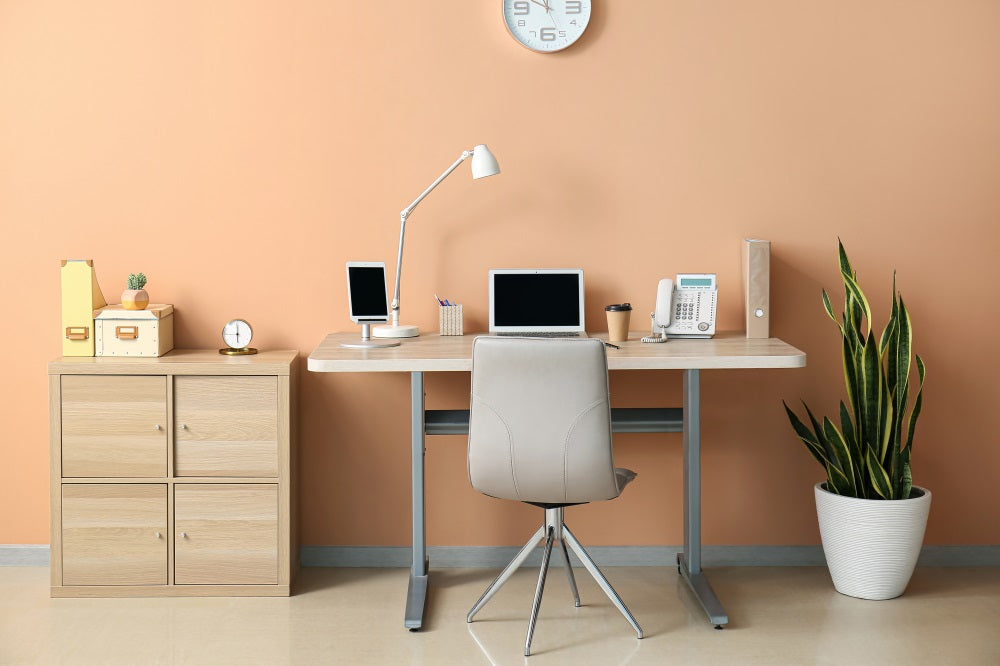 A cell phone stand will help you keep your phone within reach while working. This way, you don't have to miss vital work calls or updates from clients, colleagues, and your employer.
2.
Content creation
If you're a content creator, then you understand the benefits of having a phone stand, especially if you're using it to record videos. A cell phone stand will come in handy in this area. It'll help you take quality pictures and videos for your audience.
3.
Driving
Driving to new places can be a little challenging without maps. Luckily, you can use your phone to check for directions. However, holding them by hand isn't safe and may result in accidents. You can avoid this by using a car cell phone holder to secure your phone in place and focus on driving.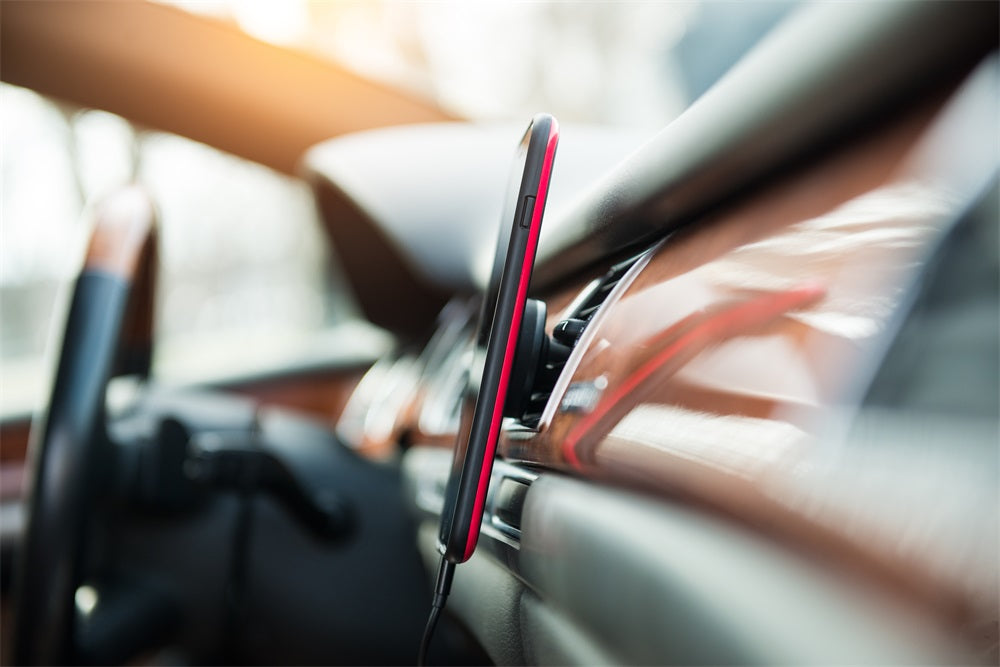 4.
Cooking and cleaning
You saw a new recipe online, and you want to try it out. However, it's a little challenging to follow the recipe while using one hand to hold up the phone. Well, a cell phone stand saves you from this struggle by allowing you to display the recipes hands-free.
Features To Consider When Choosing Your Phone Stand For Desk
Stands work great for just about any device. You can use them to hold your phone, tablet, iPhone, and even cameras.
However, there are certain factors you should consider before buying a mobile or tablet stand if you want to get the best out of it. Some of these considerations include the following:
1.
Workspace or desk height
One of the most important considerations is where you put your phone stand. It determines whether or not you'll get the best out of it.
If you spend most of your time in the office or at your home study, then you should consider buying one with the proper height adjustment so that you don't bend when using the phone. However, most stands with room for more height adjustment are less stable, primarily when used on a tablet or a large phone.  
2.
Materials
The materials used to manufacture the phone stand are also crucial factors to consider when buying your phone stand. It affects the quality, stability, and compatibility of the stands.
For instance, if you're looking for a tablet stand, then consider purchasing a stand made from metal or hard plastic. They have a more substantial base and can support and balance your device without tipping over.
3.
Stability
The worst thing that can happen when using a cell phone holder is your phone sliding off the stand or crashing to the floor, and you wouldn't want it to happen. Therefore, when deciding on the phone stand for your desk to purchase, consider one customized for balance and stability.
Choose one with silicone or rubber grips on the base. They help hold the phone in place., preventing slippage and any damage, like scratches.
However, the pads rarely do much for the stands because their stability depends on their physical design. Therefore, if you're planning to purchase a height adjustment stand, consider one that's a low tripod.
4.
Angle adjustment
Another crucial feature to look into is the angle adjustment. You don't want to spend a lot of money only to discover that you still have to bend when using your device because you can't get the right angle.
Buy something with a range of angles that allow you to hold your phone at any preferred angle without moving the stand. It comes in handy when you have to adjust the background, lighting, and number of people in a phone conference or video.
5.
Phone stand style
The phone style and design you want is also a crucial factor to consider. There are various designs available, from multi-functional stands to simple cradles, and you must decide on the type you wish to buy beforehand.
For instance, a basic cradle phone stand will work perfectly for you if you only need something to prop up your tablet when watching a film, talking, or working. However, you'll need a much more robust stand if you're planning to charge while using and adjust to various angles.
6.
Ease of use
The last thing you'd want is to purchase something you spend more time setting up than using. You want to buy something that's easy to use and one you won't have to fiddle with to keep in place.
For this reason, you may want to consider something with a suction cup or weighted base. They allow you to easily place the stand on your desk or kitchen counter, securing your phone until you're done using it.
7.
Price
One of the most vital factors that are likely to affect your purchase decision is the price of the cell phone stands. Different cell phone stands have varying costs depending on their ergonomic design and features.
If you're looking for something simple and affordable, go for plastic stands. They're cheaper than the rest but not as long-lasting, and you'll end up spending more money in the long run. Therefore, go for metal, wooden, or aluminum stands. They may have a higher price but will benefit you in the long.
8.
Compatibility
Compatibility is another factor you should consider before buying a tripod phone stand. Different stands are designed for various phones, and you have to be careful not to purchase one that's incompatible with your device.
For one, charging stands can only work with specific cell phones. However, you need to have one of these if you're attending long meetings or online classes.
You'd also want to purchase a phone clamp compatible with multiple devices that allows you to hold your phone in a vertical or horizontal position when watching or recording videos.
9.
Portability
Most cell phone stands are portable. However, some cell phone stands, like tripod stands, require more space making it challenging to carry them when traveling.
Therefore, buying one that folds flat to a pocket size is necessary to make it easy to pack and transport.
Benefits Of Cell Phone Stands
Cell phone holders don't only keep your hands free to do other things and chores. They have numerous benefits. Some of these benefits include the following:
Comfort: Cell phone stands allow you to watch and use your phone for a long time without getting exhausted from holding it yourself. You don't have to strain your neck, arms, and back. You just adjust them to the right angle and enjoy your screen time.  
Safety: Most accidents occur due to driving while on the phone. Stands help keep your phone at arm's length, where you can always navigate and pick up calls with your hands on the steering.
Productivity: Cell phone stands also increase your productivity as they allow you to multitask. For instance, you can continue preparing your meal while looking at the recipe simultaneously.
What Is The Best Phone Stand?
With so many types to choose from, deciding on the one to purchase can be a little overwhelming. However, the best cell phone stand is one that holds your phone securely, is stable, portable, and occupies less desk space.
How Do You Prop Up Your Phone In Bed?
You can watch a movie, listen to a podcast, or make video calls in bed without necessarily having to hold up your phone by hand. Instead, prop up your phone for bed by connecting an adjustable cell phone stand to the headboard.
Are Phone Stands Rust-Resistant?
Most cell phone stands have a top layer of plastics, silicone, and anti-corrosion materials, making them rust-resistant. Therefore, you'd want to check the type of material used before buying. Stands made of aluminum alloy with molybdenum and nickel are also rust-resistant.
Can You Use Phone Stands On A Tablet?
Yes. You can use your cell phone stand as a tablet stand. Most are adjustable and wide enough to accommodate even tables. However, it'll depend on the type of stand. It's, therefore, crucial to read the product description to know if the stand will be compatible with your devices.
Conclusion
Finding the best cell phone stand for a desk isn't a complicated task. However, you must know the features, such as stability, compatibility, and ergonomic design, to watch out for. Check if the stand can support the weight of your device and if you can adjust it to eye level to avoid straining. Everyone's needs vary, so you'll have to know what works best for you if you're planning to purchase this accessory.