Description
8K Active Optical HDMI 2.1 Cable
Open Your 8K World
Long Transmission Distance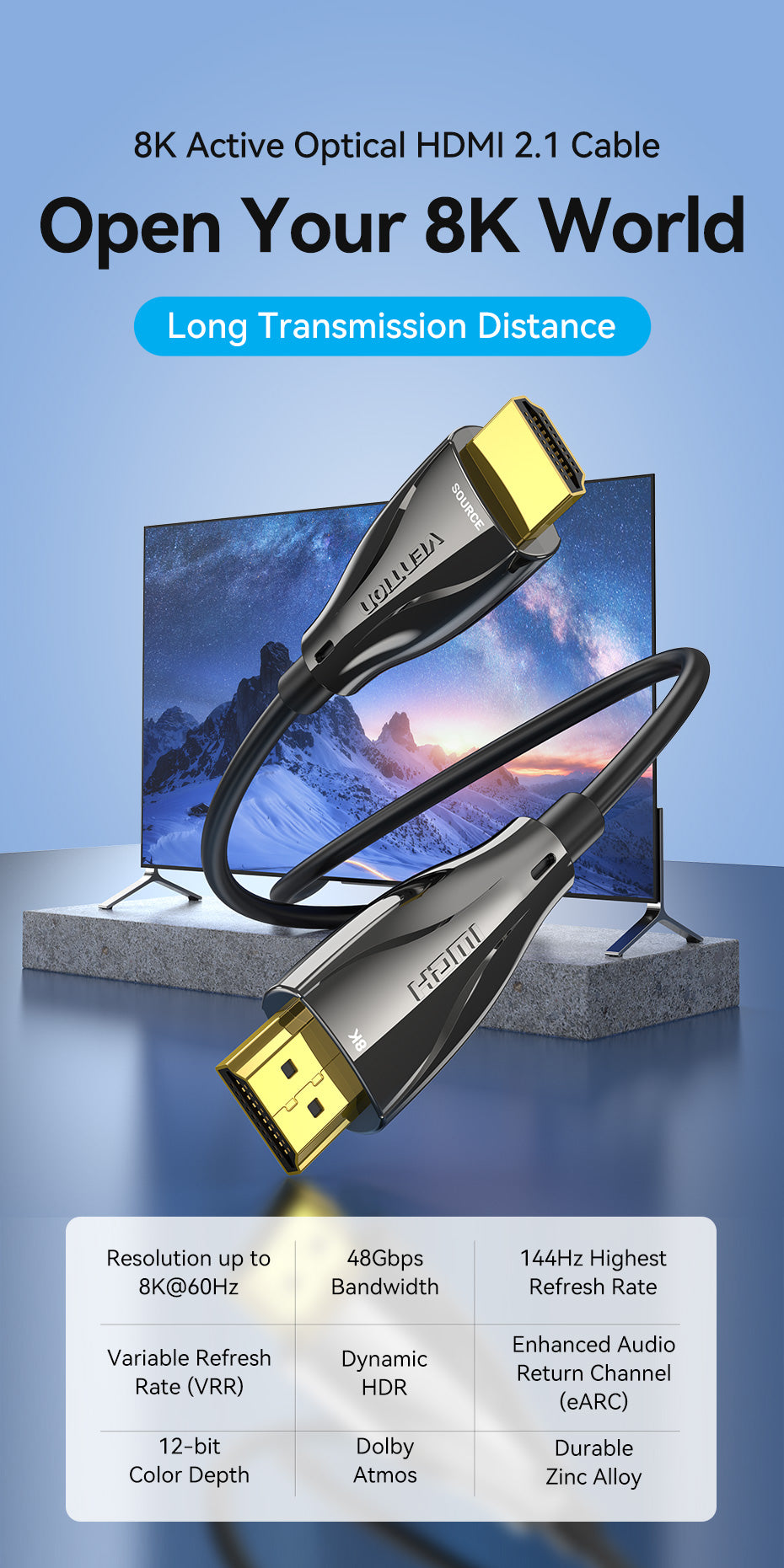 Convenient for Electrical Wiring
Optical Fiber HDMI 2.1 Cable realizes ultra-long-distance audio and video transmission and meets the needsof long-distance electrical wiring.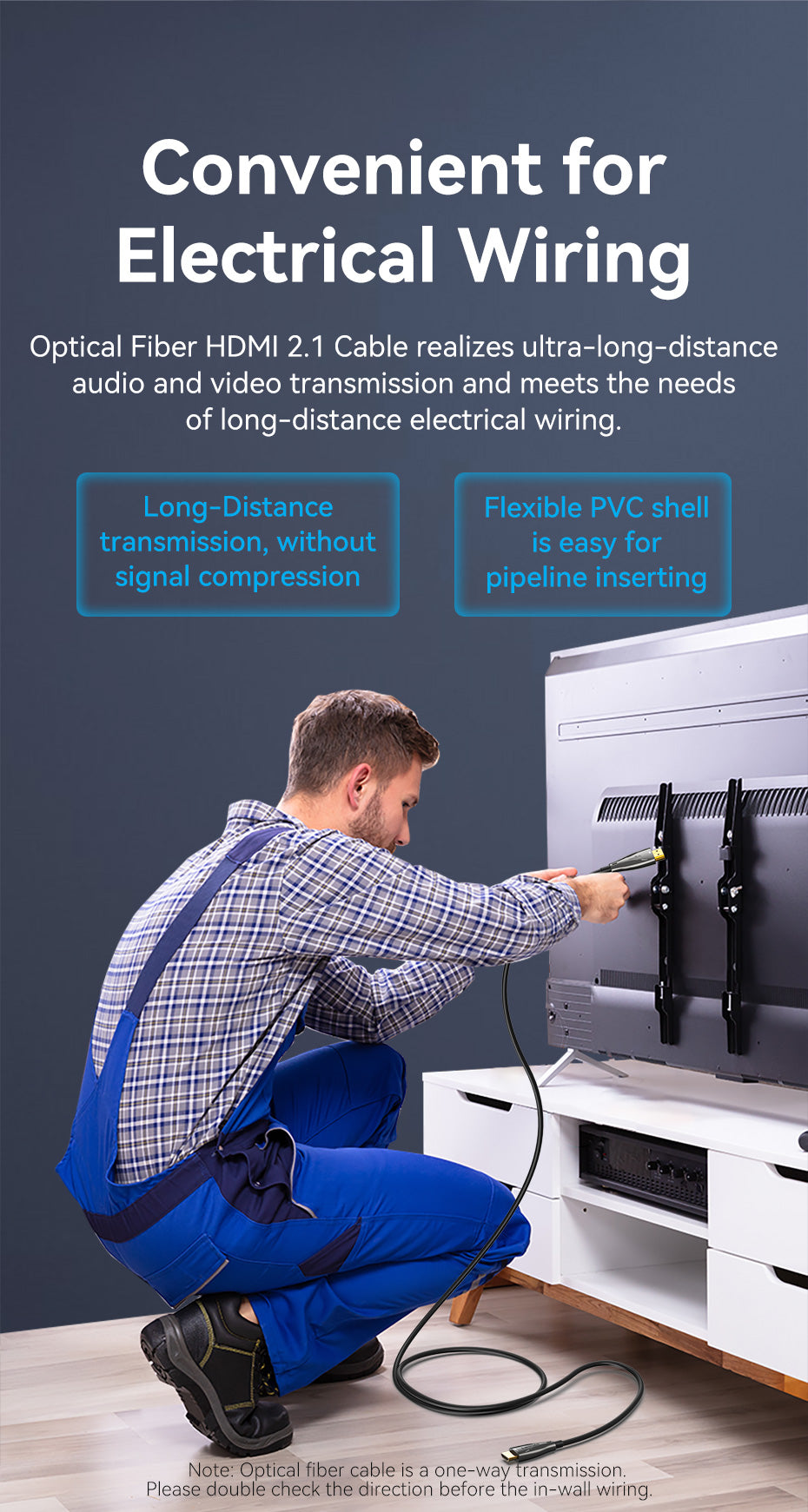 Six Features
1. Signal transmission, uncompressed video

With the Electrical-to-Optical switch chip, it realizesa uncompressed signal transmission.
2. Transmission at the speed of light without delay

The Optical Fiber Cable features longer reach and higher bandwidth. lt works perfect in the 1 m to 100 m range.
3. Limited EMIexposure

Exceptionally low EMl.
4. Longer reach and less attenuation

The attenuation of optical fiber transmission is almost zerowhich is intended for long distance applications.
5. Ultra-Low power consumption

Power consumption ≤250mW. lt is convenient to use without extra power supply.
6. No radiation

No radiation and safer to use.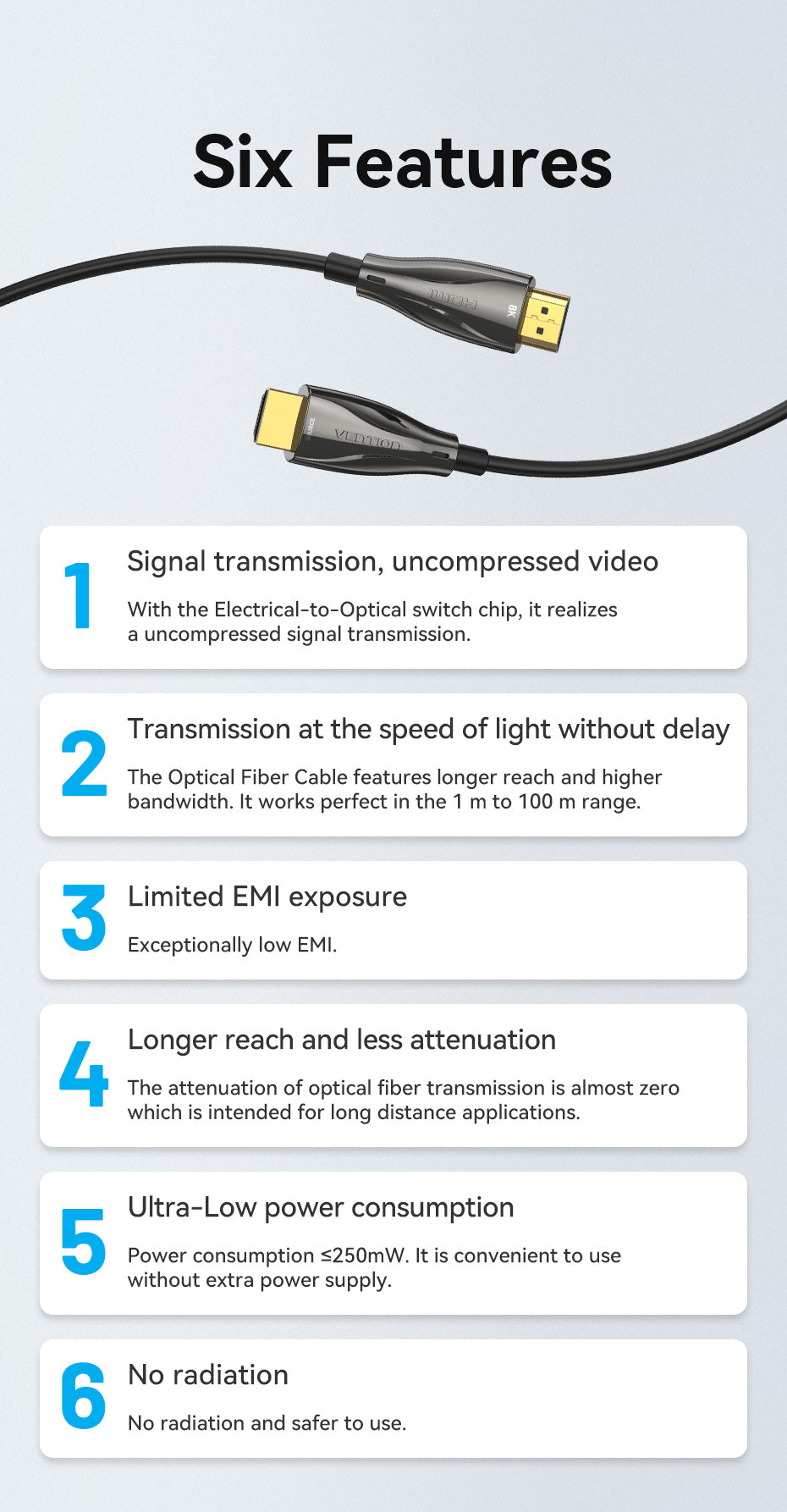 Resolution up to 8K@60Hz

The experience brought by 8K picture quality (7,680x4,320@60Hz) is more advanced than 4K. It accurately and clearly displays every signal.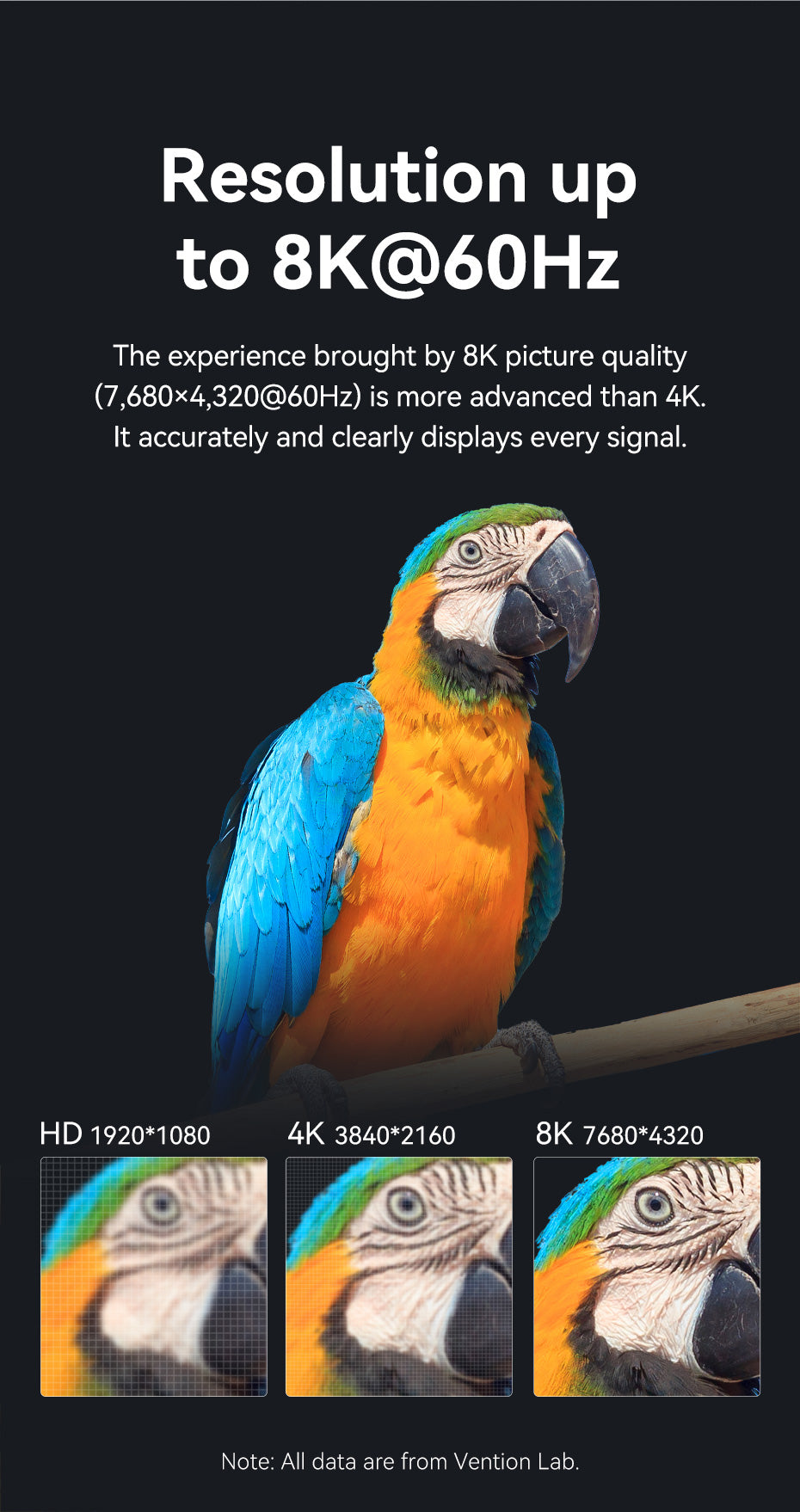 48Gbps Bandwidth

48Gbps bandwidth enables a stable signal transmission.
No more flicker and tearing. Let you to obtain a smoother and detailed picture.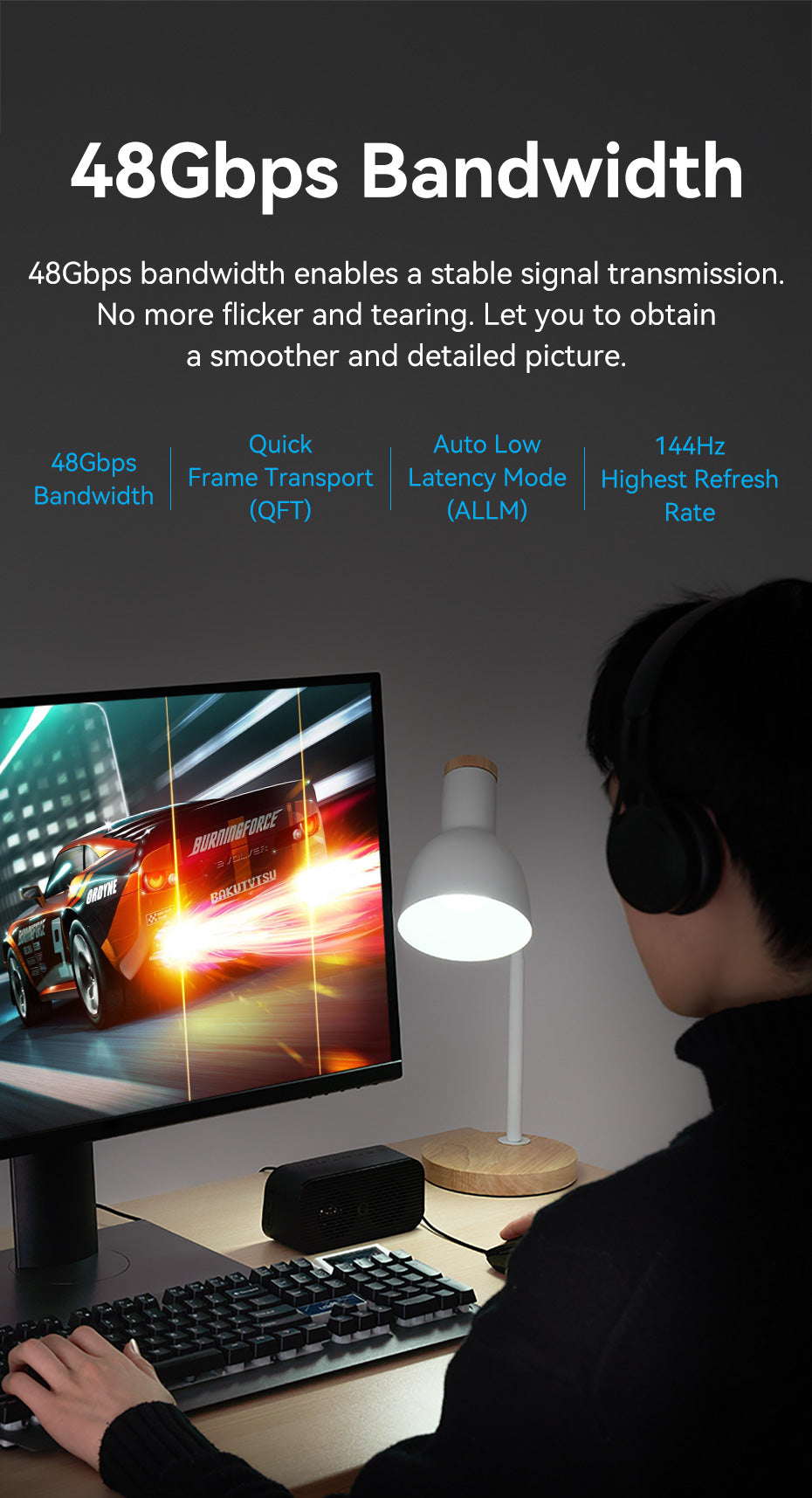 No Jerky Motion & Latency

Supports Game Mode Variable Refresh Rate (VRR) and produces a more fluid and detailed gameplay experience.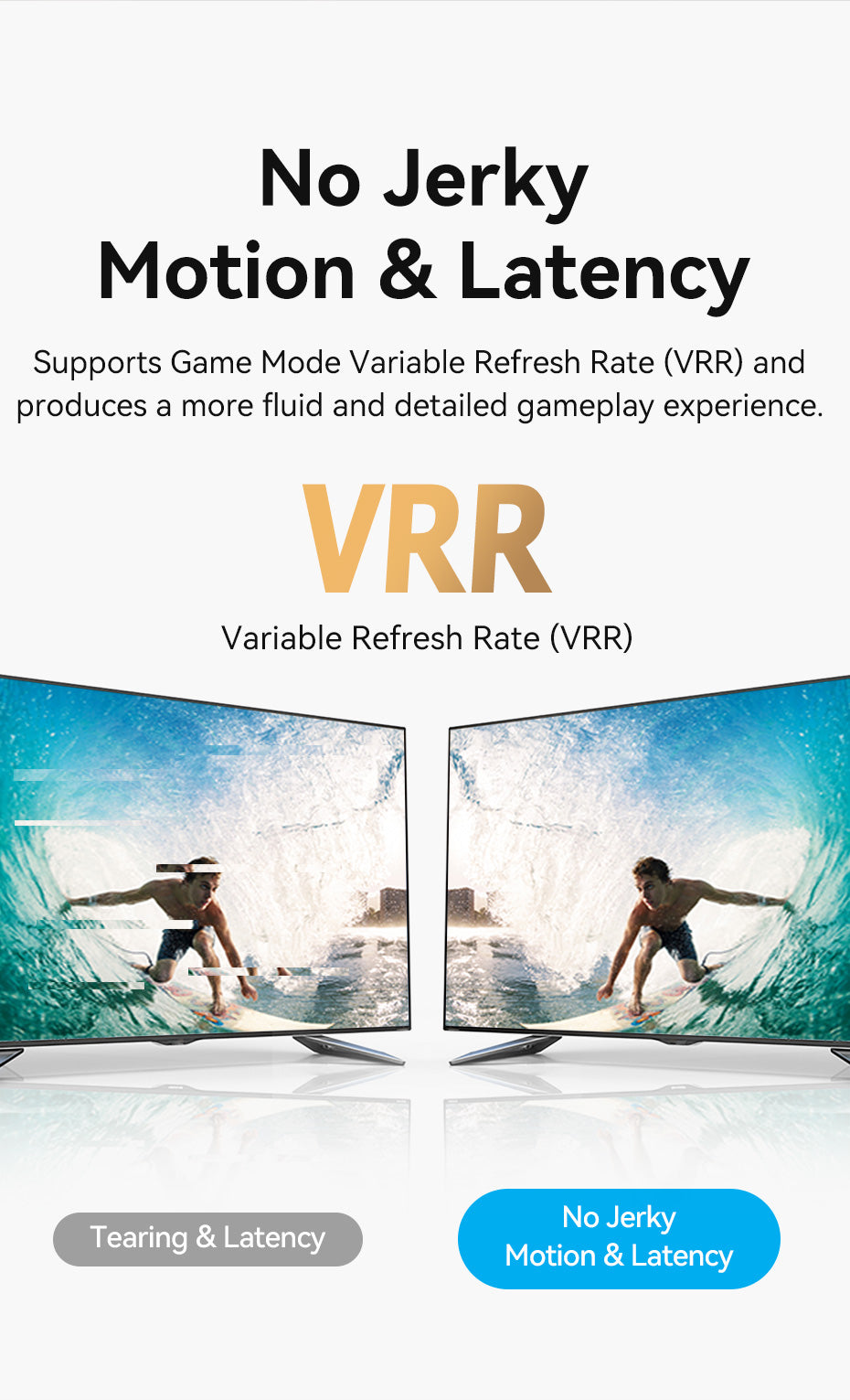 Dynamic HDR

Dynamic HDR ensures every moment of a video is displayed at its ideal values for depth, detail, brightness, contrast, and wider color gamuts, optimized on a scene-by-scene or even aframe-by-frame basis.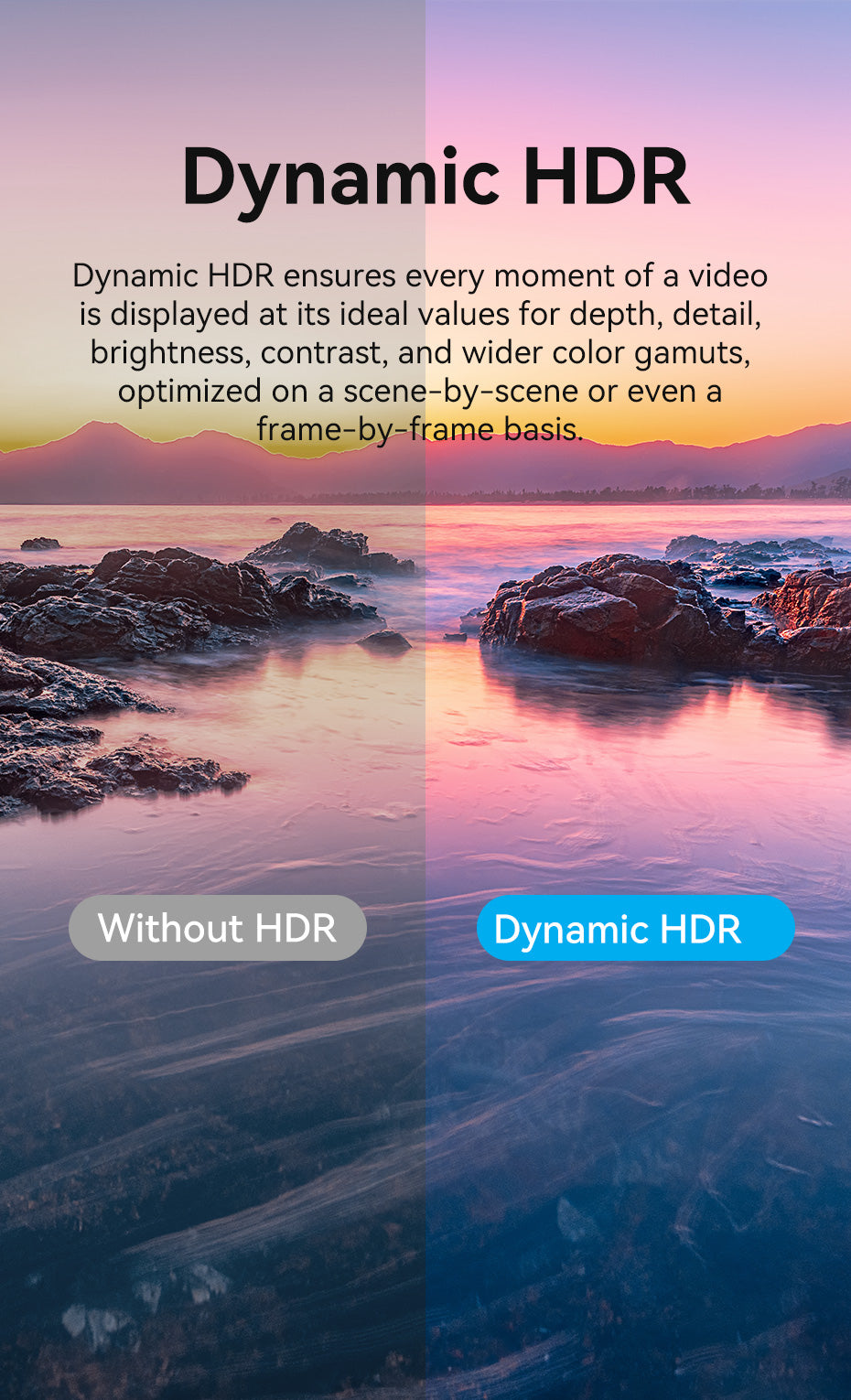 12-bit Color Depth

Supports Deep Color with up to 12-bit per channel. Paired with 8K monitor, it is ideal for photographer, designer or video editor, etc.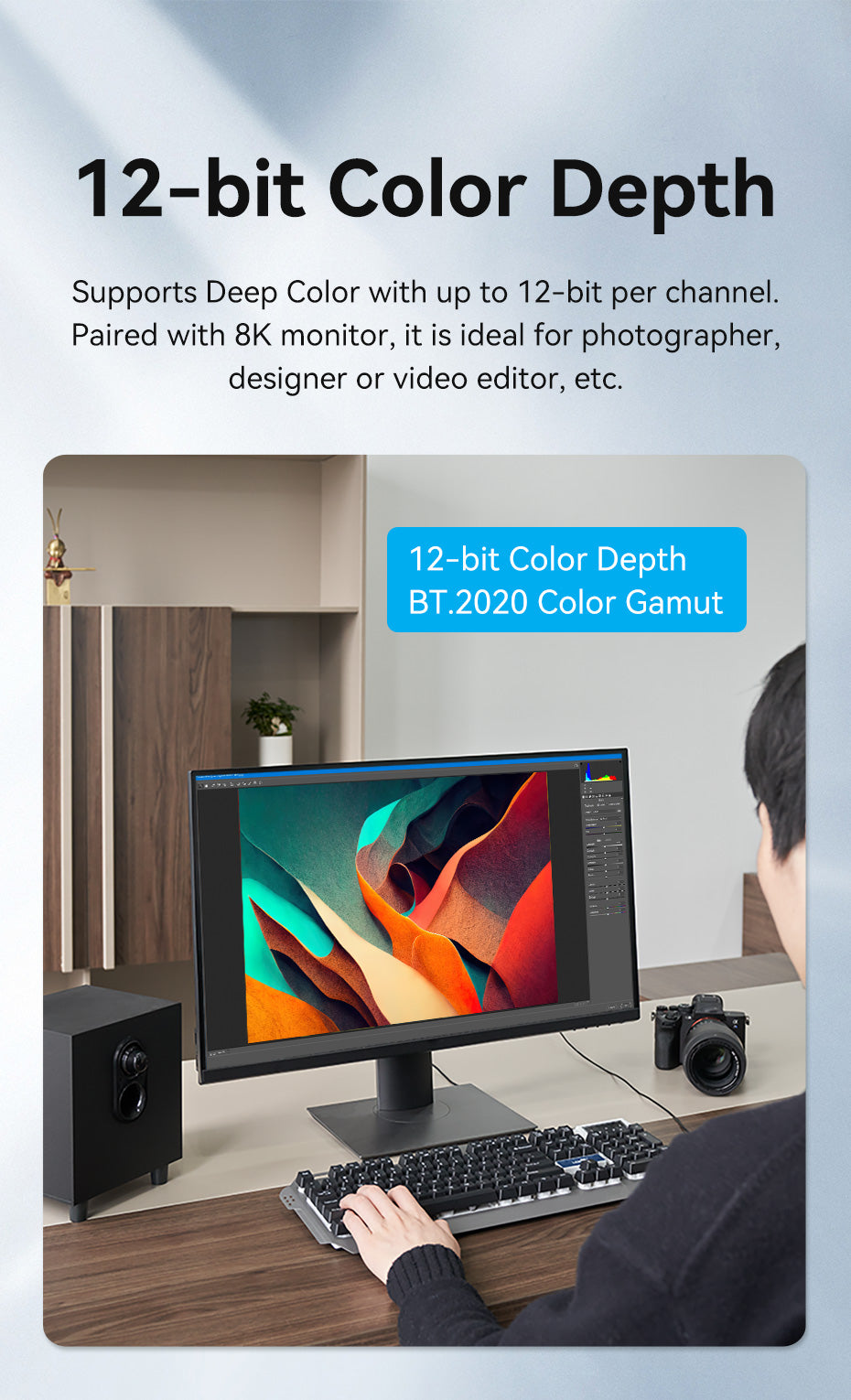 eARC Hi-Fi Sound Quality

The eARC(Enhanced Audio Return Channel) feature simplifies connectivity and is optimized for use with object-basedaudio formats, such as Dolby Atmos and DTS:X.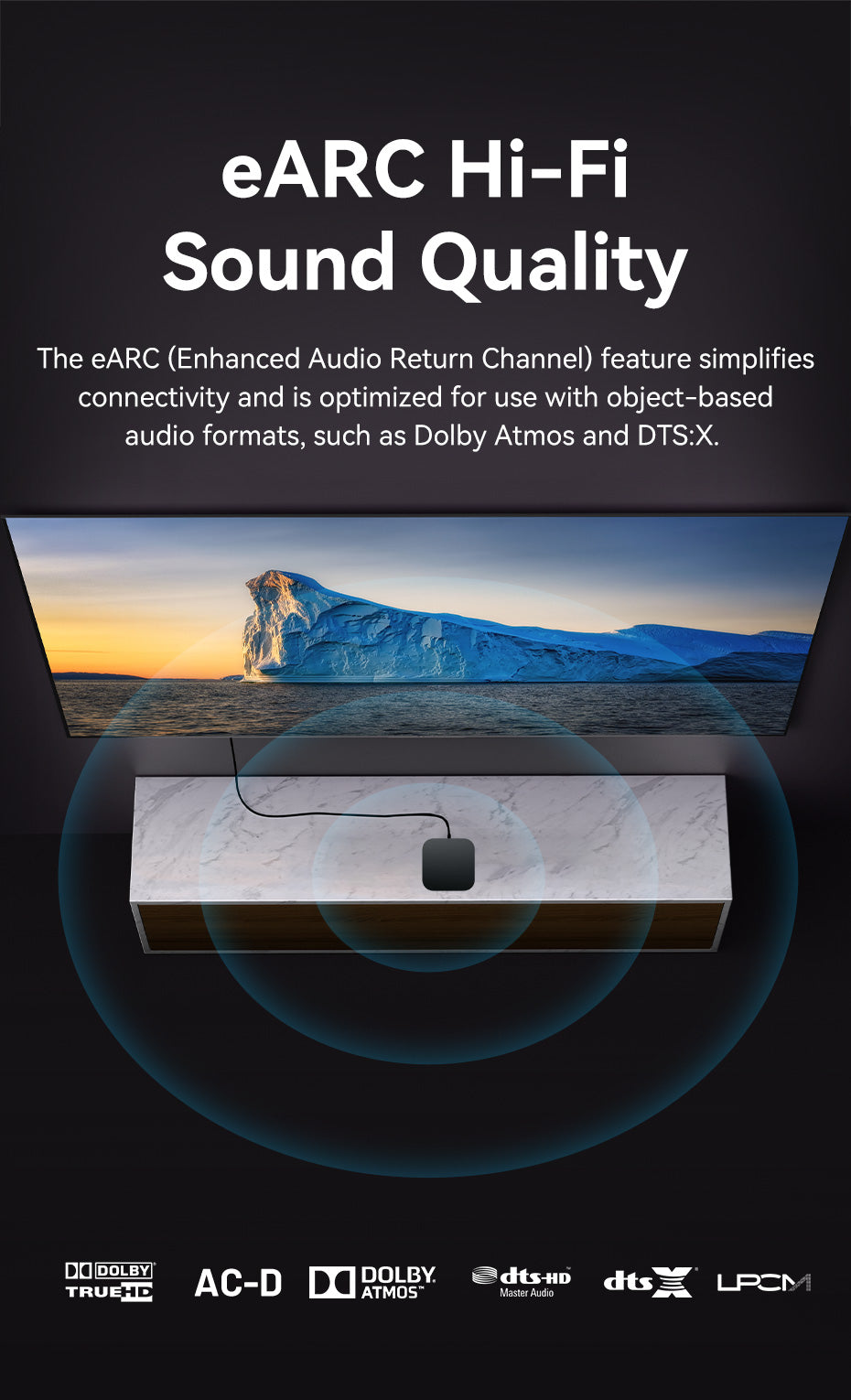 Light Speed Transmission

An active fiber optic cable has electrical-to-optical conversion modules at both ends that allows direct communication between devices.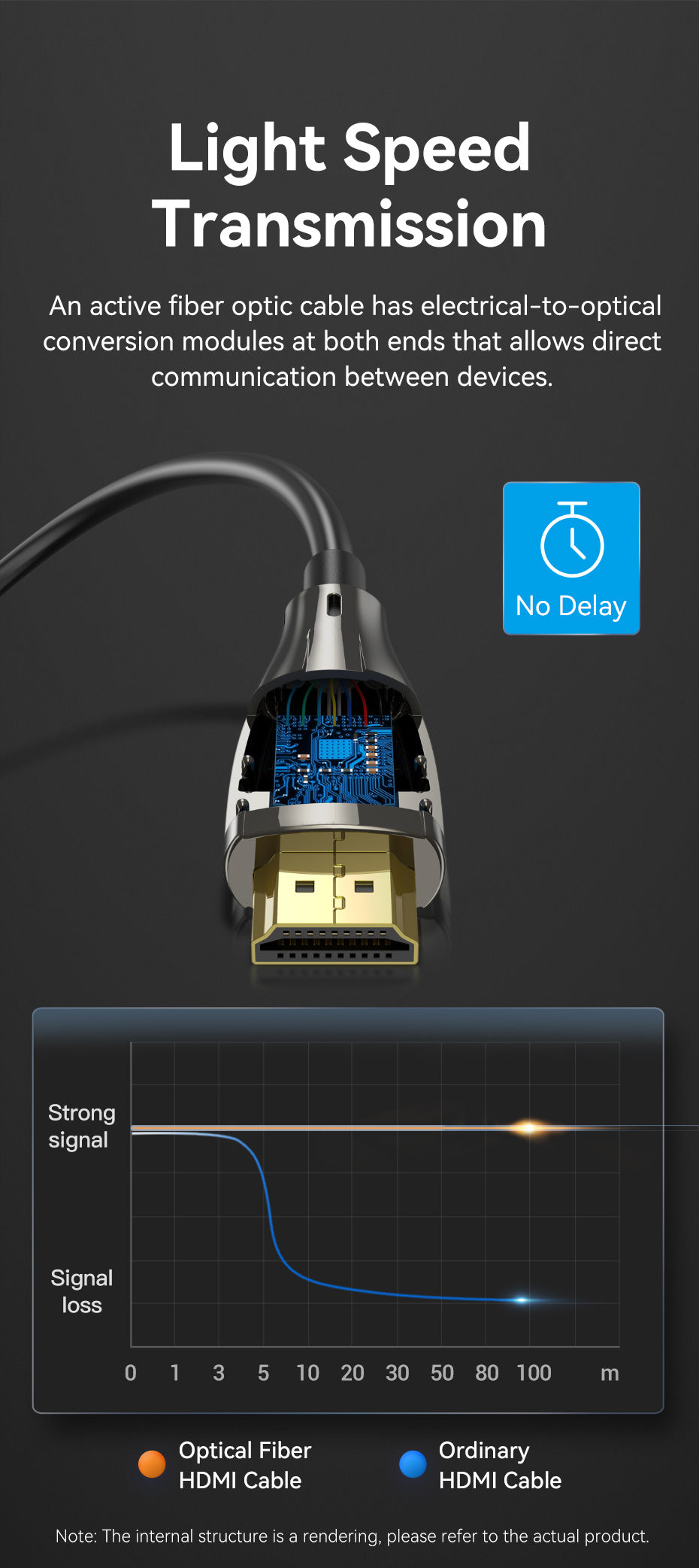 Stable Signal Transmission

4 core Fiber Optic are used to transfer TMDS signal. lt uses differential signaling to reduce EMl which allows faster signal transfers with increased accuracy.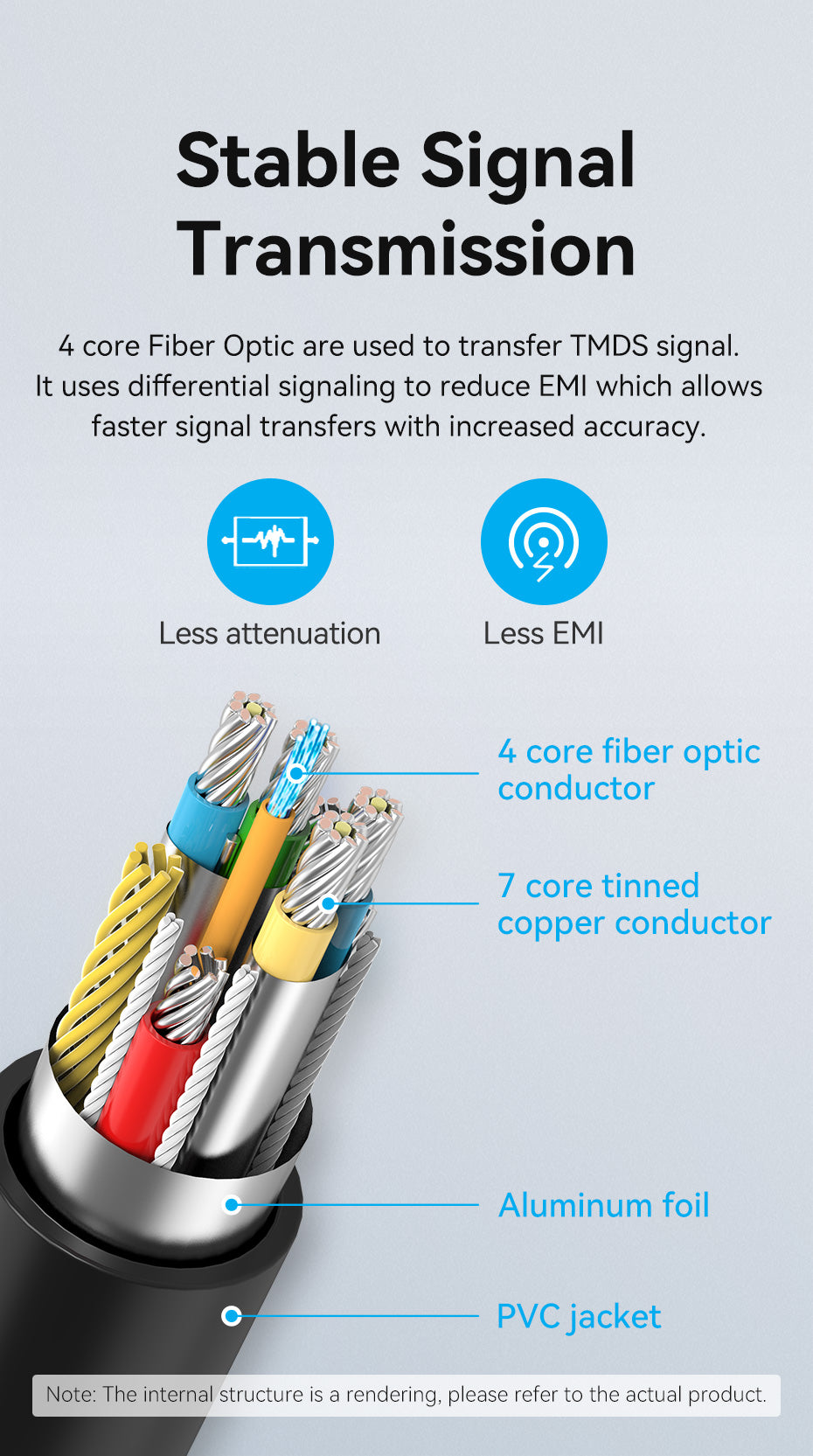 Reinforced Materials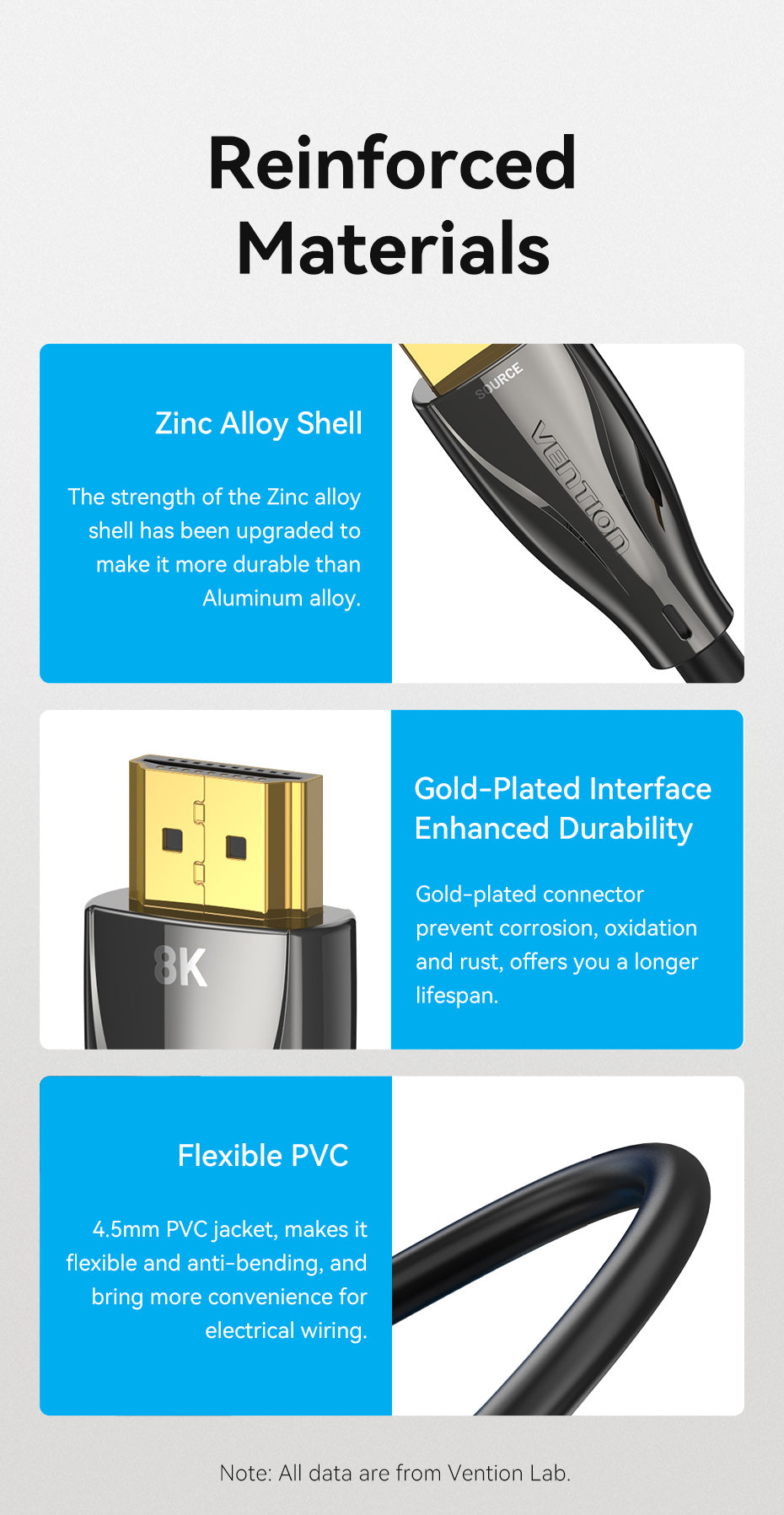 HDMI Devices Applicable

Optical fiber cable is a one-way transmission.
Please double check the direction before the in-wall wiring.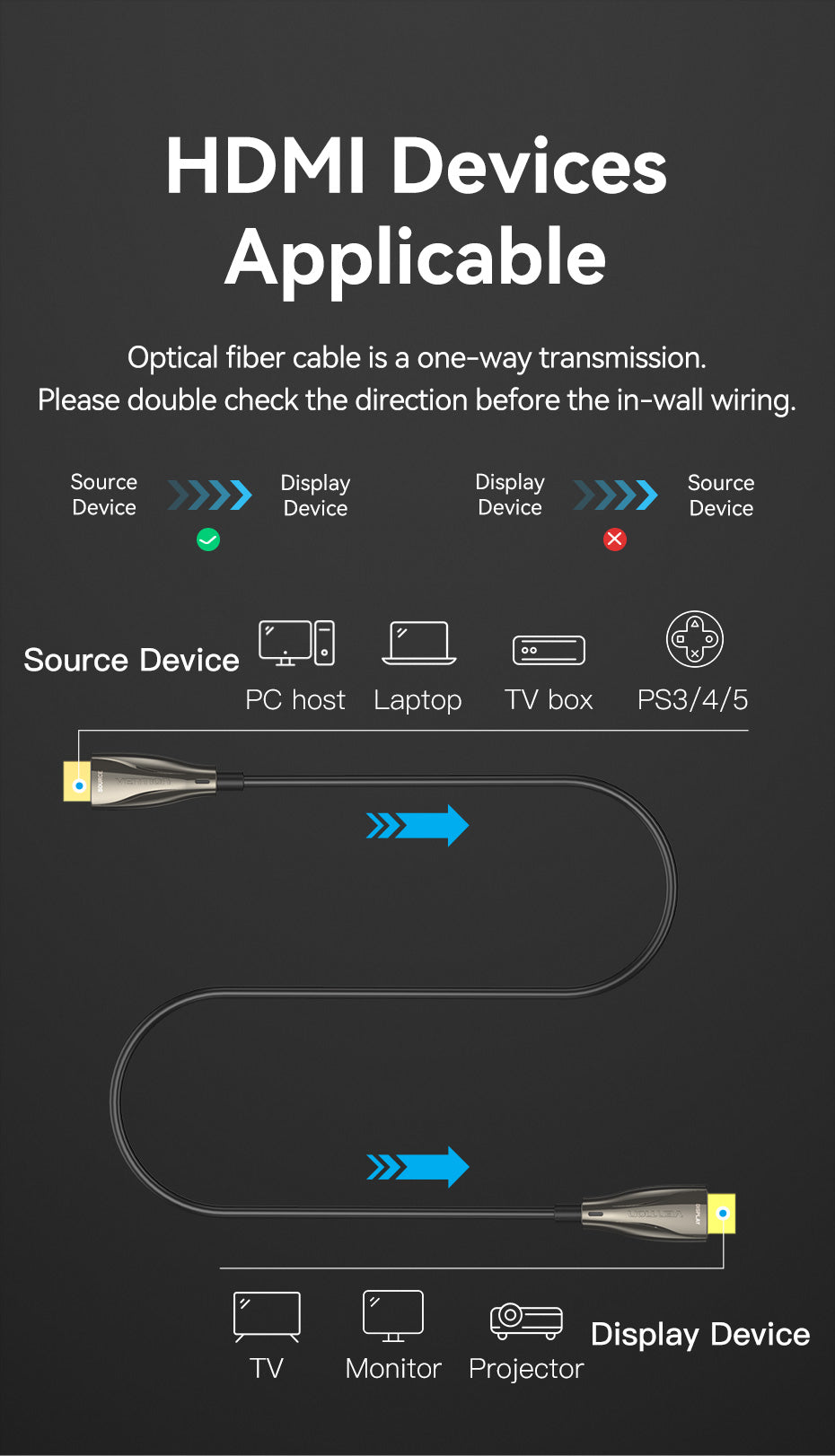 Wide Applicability

8K HDMI Cable conforms to the standard HDMI 2.1 version. lt is also backward compatible with HDMI 2.0/1.4/1.3/1.2/1.1 versions.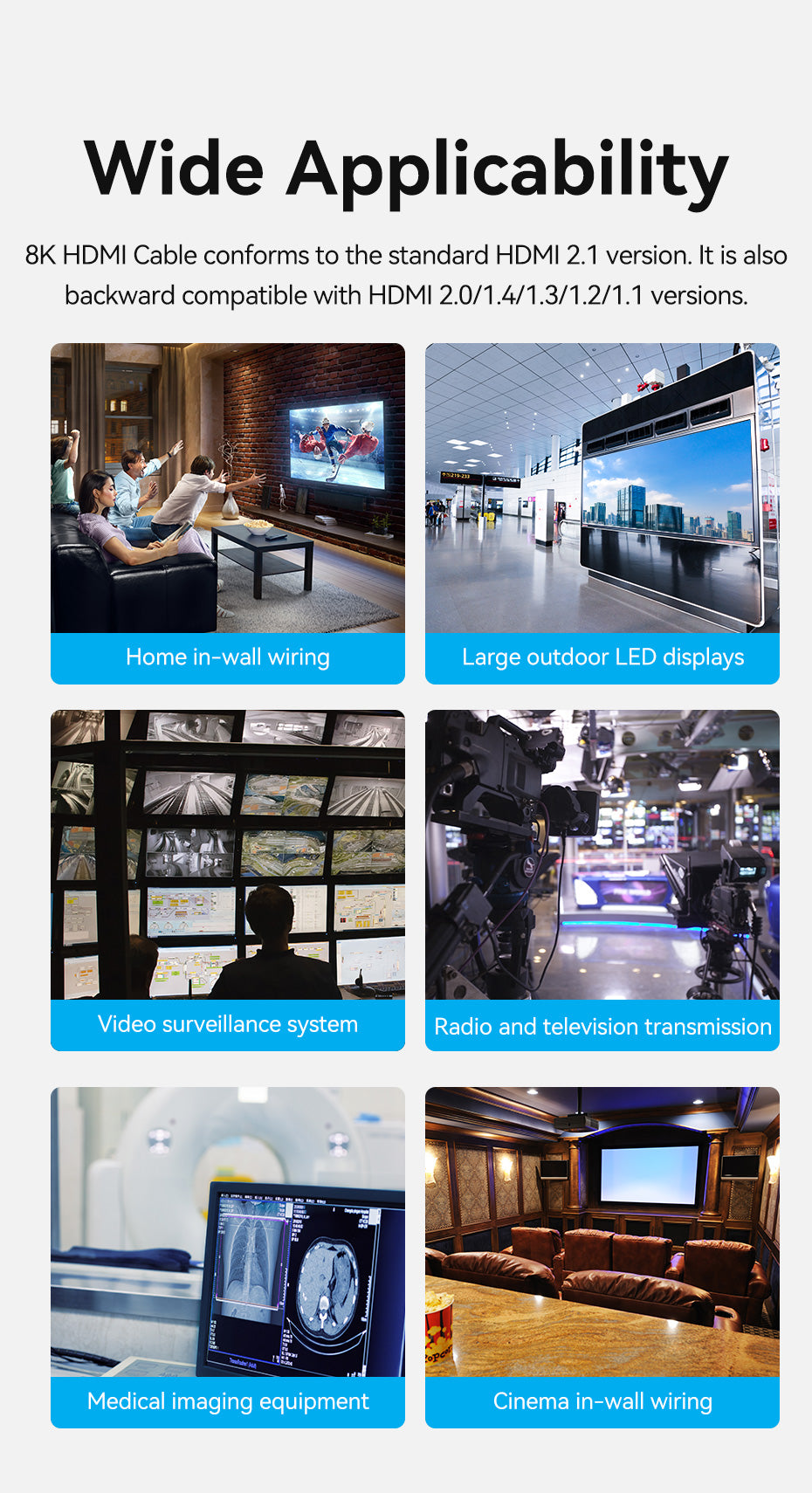 Product Parameters
Brand: Vention
Name: Optical Fiber Male to Male HDMI Cable
Model: ALB
Color: Black
Interface: HDMI
Electroplating Process: Gold-Plated
Resolution: 1080P@160Hz/2K@144Hz 4K@120Hz/8K@60Hz
Transmission Speed: 48Gbps
Conductor: Tinned Copper+Optical Fiber
Chip: Electrical-to-Optical Switch Chip
Shell: Zinc Alloy
Shielding: Aluminum Foil
Jacket: PVC
AWG: 30AWG+28AWG+26AWG
OD: 4.5mm
Length: 1-100m
Warranty: 1 Year
Packing: Color Box(1-40 m)/Gift Box(50-100 m)